POSTED AT

08:14 AM 17-02-2019
A rocking night of Motown music
An enthralling evening of hits from the 60s to the 80s: Noted with Say a little Prayer
Signed, Sealed, Delivered, performed by the talented students of the Revelations Academy of Performing Arts on Friday, February 1, at the Bishop's College Auditorium, brought us an evening of exuberantly choreographed, unforgettable Motown classics directed by the dynamic master of choral extravaganzas Sanjeev Jayaratnam.
From the starting bells that brought silence in anticipation of what was to come, the opening Motown Medley to the grand finale "We Are The World", this was a show to remember ably supported by Julian Anderson's vigorous choreography and Rachel Mendis' attention to detail as Assistant Director.
Months of hard work, dedication and a passion-to-succeed attitude by every performer at Revelations (Revs) paid off as the singers in shimmery outfits from bell-bottoms to sparkling jackets and tops swayed and danced to the rhythm making one want to sing and dance along.
As we listened to those beautiful voices, watching their contagiously excited smiling faces, feeling their delight, an apt quote by Martin Luther King came to mind :"As long as we live, there is never enough singing"! The evening with the Revelations Academy performers 'Rocked the night away' bringing alive those hits from the 60's to the 80's which many of us grew up listening to.
The Supremes' "Baby Love", "Stop! In The Name of Love", "You Can't Hurry Love", medleys from The Temptations ", The Jackson 5, Stevie Wonder and other Motown hits, also the King of Rock Michael Jackson's "Rock With You", "Man In The Mirror", the soulful "Ben", "Say SaySay" and the rousing "Thriller" kept the audience on a high.
The classics kept on coming with "Ain't No Sunshine", "Reach Out and Touch", "Got To Be There", "I'll Be There", and many more keeping our feet tapping and hands clapping throughout.
The exciting all-female choral ensemble 'Noted' mostly comprised of students who sang in the Methodist College Choir gave us a stunning performance of hits such as "Proud Mary", "I Say A Little Prayer" and "River Deep, Mountain High". A truly professional and graceful performance enjoyed by all.
The Revelations Academy of Performing Arts continues to keep great music alive in the hearts of the young and 'young at heart'.
An energetic rendition of Please Mr. Postman
When You Believe by Chenumi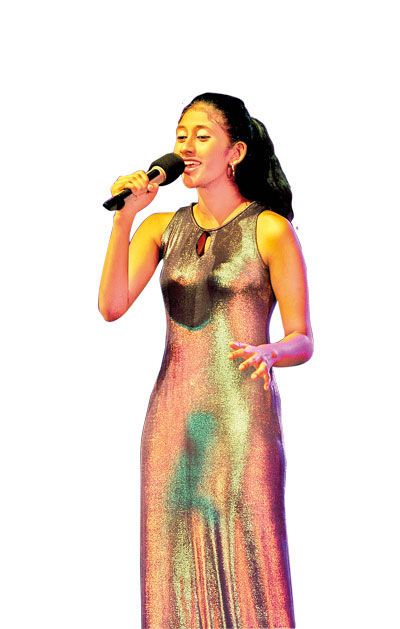 Bringing back those Bell bottom days: My Cherie Amor (as part of the Stevie Wonder Medley) and above right from the Motown Medley. Pix by Ishanka Sunimal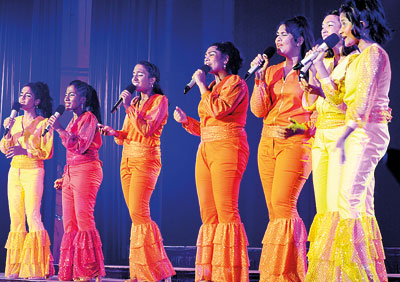 It Takes Two by Sashyani and Cheneliza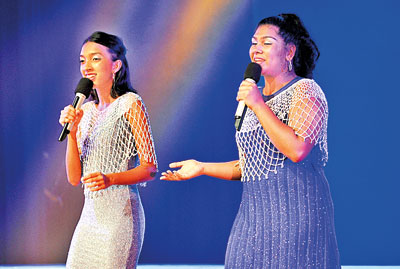 Cheyne Wikramatilaka