POSTED AT

07:44 AM 20-04-2019
Sri Lanka's first satellite 'Raavana-1' takes off
A rainbow is seen at launch Pad-0A after the Northrop Grumman Antares rocket launched, Wednesday, April 17, 2019, at NASA's Wallops Flight Facility in Virginia. Northrop Grumman's 11th contracted cargo resupply mission for NASA to the International Space Station will deliver about 7,600 pounds of science and research, crew supplies and vehicle hardware to the orbital laboratory and its crew - Image Credit: NASA/Bill Ingalls
A rainbow and the Cygnus launch
Sri Lanka's first satellite 'Raavana-1' was launched into space Thursday, marking Sri Lanka's entry into the global space age.
A Northrop Grumman Antares rocket carrying a Cygnus resupply spacecraft is seen during sunrise on Pad-0A, Tuesday, April 16, 2019, at NASA's Wallops Flight Facility in Virginia. Cygnus was slated to launch on April 17, 2019, at 4:46 p.m. ET or 2:16 am 18 April Sri Lanka time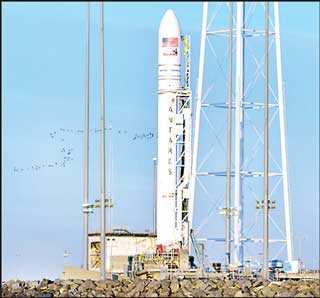 The BIRDS-3 satellites from Japan, Nepal, and Sri Lanka were taken to the International Space Station (ISS) as cargo, and boarded onto Antares rocket, which carries the Cygnus cargo spacecraft.

The Northrop Grumman Antares rocket and its unmanned Cygnus spacecraft launched into the space from the Mid-Atlantic Regional Spaceport at NASA's Wallops Flight Facility on Virginia's East Shore, kicking off a two-day voyage to the space station. Lift-off occurred at 4:46 pm EDT on 17 April (2:16 am 18 April Sri Lanka time), NASA reported.

The research satellite, named RAVANA-1 was designed and built at the Kyushu Institute of Technology in Japan by Tharindu Dayaratne and Dulani Chamika, two Sri Lankan engineers from the Arthur C Clarke Institute, Moratuwa.

The satellite is expected to fulfil five missions including the capturing of pictures of Sri Lanka and its surrounding regions.

The Raavana-1 measuring 11.3 cm x 10 cm x 10 cm, and weighing around 1.05 kg is expected to orbit 400 km away from earth. It will have a minimum lifespan of one and half years.